Kingdom Meets Great Northern Opportunity
Throughout the history of business, the best and most profitable investments have been made at "The Ground Floor". While the Oil and Gas industry is not a new business, it is in a volatile state of pricing and shifts., meaning many great opportunities have come into play for investors. One such opportunity is Kingdom Exploration's moves to invest in new wells in British Columbia, Canada. While a different type of investment than its core business of oil wells in the United States, which upfront provides tax breaks, the Canadian wells are less expensive to drill and the currency is valued below the dollar and hold the potential for sizable profits!
No fracking. Save money. Shallower drilling, ease of extraction.
The United States has continued to shortchange oil and gas producers in their own country. According to Paul H. Tice, head of the Energy Capital Group at USCA Asset Management, in the Wall Street Journal (Kicking the Oil Business When It's Down, April 5 2016), the current administration has blocked the building of the Keystone XL Pipeline and in the 2017 budget, suggested a $10.25 per barrel tax. Investing in the US oil programs are making less and less sense for the common investor. However putting investment capital into a country that values it's oil business, at a lower operating cost makes a great deal of sense.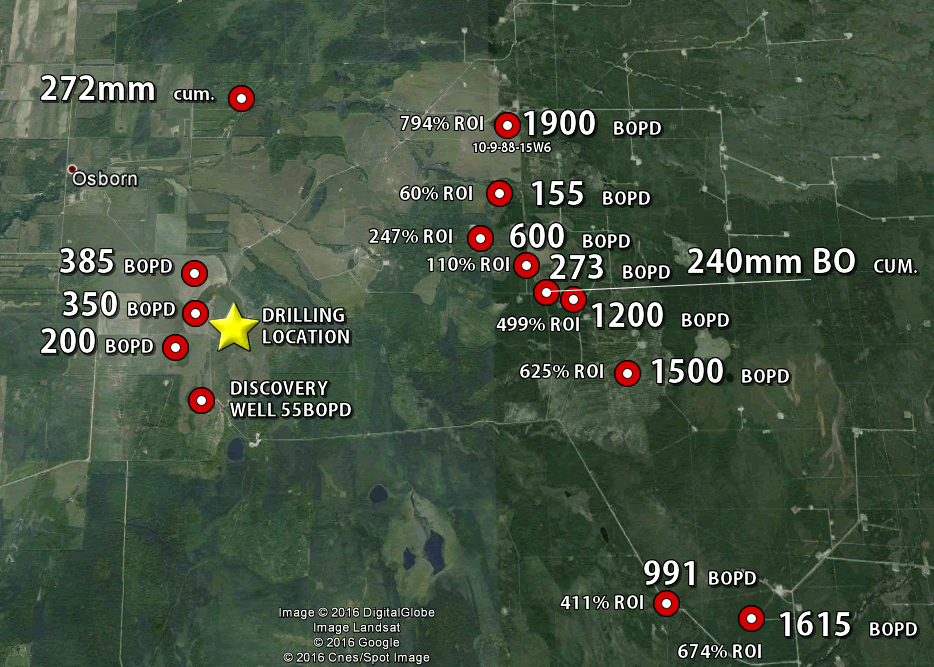 The Benefits of Canadian Oil and Gas Investment
Buying power in Canada is 30% higher. $100,000.00 USD is valued approximately $130,000 Canadian.
The cost of Drilling is Much Lower. Target oil formation in Canada is shallower and has higher porosity than most oil formations in USA making drilling and completion cost much lower. In order to drill a new well in the Bakken, Eagleford, or Buhdah Shales in the US, it would cost $8-12 Million. In Canada, a similar well can be drilled for $1.7 Million.
The federal corporate tax rate is much lower (15% in Canada vs 34-35% in the US - yes, only 15% - you American read that correctly) The small business deduction reduces the federal corporate tax rate to 11% on the first $500,000 in taxable income
All Oil is Sold and Purchased in US currency. Savings are realized by converting USD to Canadian—leading to profits similar to US oil companies.
The oil industry has been depressed. Due to low oil prices and inflation, the Canadian oil market was hit twice as hard as US. This opens the door to bigger opportunities.
US oil markets are over saturated – because there is greater amounts of investment in the US, it becomes more difficult to find profitable land leases for drilling. Meanwhile, Canada remains the largest single source of oil imports into the United States.
Substantial growth of oil production in Canada. For the past 10 years, almost 25,000 new oil wells were spudded (drilled) annually in Canada.
Environmental Responsibility. Alberta set Greenhouse Gas (GHG) emission regulations in 2007 and recently increased its carbon price. Among the top suppliers of oil imports to the United States (Canada, Mexico, Nigeria, Saudi Arabia and Iraq, Venezuela), only Canada has GHG rules in place.
About Kingdom Exploration LLC
Kingdom Exploration LLC, since its formation in 2007, has successfully presented a unique opportunity to the investor and operator in blending resources to independently explore and develop oil wells in the United States.
In looking to Canada, the world's fifth largest producer of oil—producing 4.5 Million Barrels per day—Kingdom Exploration seeks to drive more profit to it's investors at a lower operating cost. The US Oil and Gas business has become crowded and not as profitable during uncertain and inconsistent fluctuations in the market and industry. Recognizing a key opportunity North of the border, Kingdom Exploration President, Sean Pruitt now seeks fresh investment to grow profit and reach by drilling in an area notorious for substantial oil and gas yield.